Thursday, February 25, 2021
JBL celebrates its 75th anniversary with exciting new products
Lots of new headphones and speakers and a very cool amplifier will be on sale soon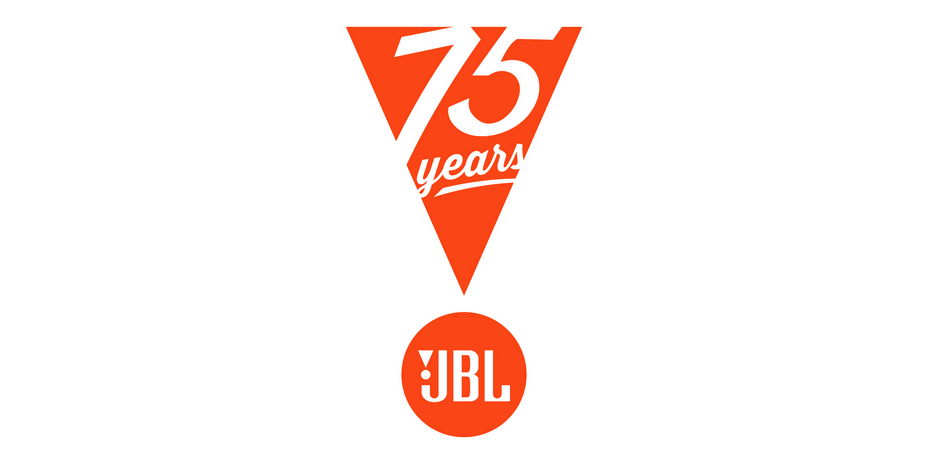 At CES, the world's largest electronics trade fair, held virtually this year, JBL introduced a number of exciting new products.
For the past 75 years, JBL has played a unique and important role in music history. JBL's technology has always been important in organizing revolutionary events in the world of music, as well as in assisting the most talented musicians in their careers. These achievements have been recognized with a large number of prestigious awards, including the Grammys and the Oscars.
JBL's legendary and unique sound quality has won the hearts of countless listeners everywhere, be it a concert venue or a cinema, a state-of-the-art sound system in the car, or an immersive home cinema experience. In recent years, however, JBL has shown real innovation in the development of high-quality headphones and portable speakers, which have quickly won the hearts of young music lovers. But innovation doesn't stop there - the recently introduced ground-breaking JBL Quantum series gamer headphones already have many huge fans among the top stars of e-sports.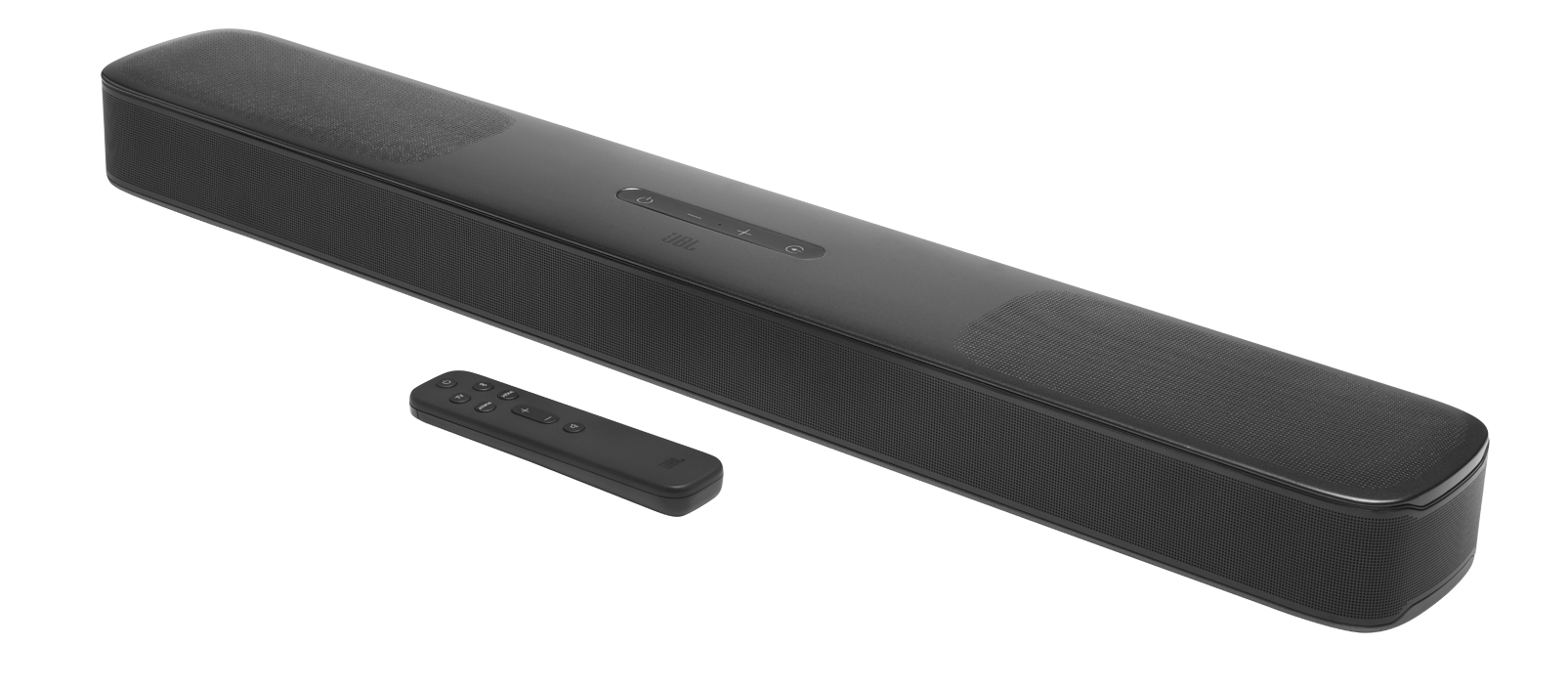 Bar 5.0 Multibeam is an all-in-one Soundbar with virtual Dolby Atmos
Bar 5.0 Multibeam, the newest member of the highly acclaimed JBL family of speakers, brings the surround sound with virtual Dolby Atmos to a more affordable price range. The compact all-in-one Soundbar fits perfectly next to a smaller TV, and the integrated subwoofers mean you don't have to worry about finding the perfect place for it.
This smart sound system supports all common streaming services and multiroom solutions, thanks to the use of integrated Apple Airplay 2, Google Chromecast, and Alexa Multiroom Music solutions. Of course, the Soundbar also has Bluetooth, which conveniently transfers audio from your smartphone or your computer.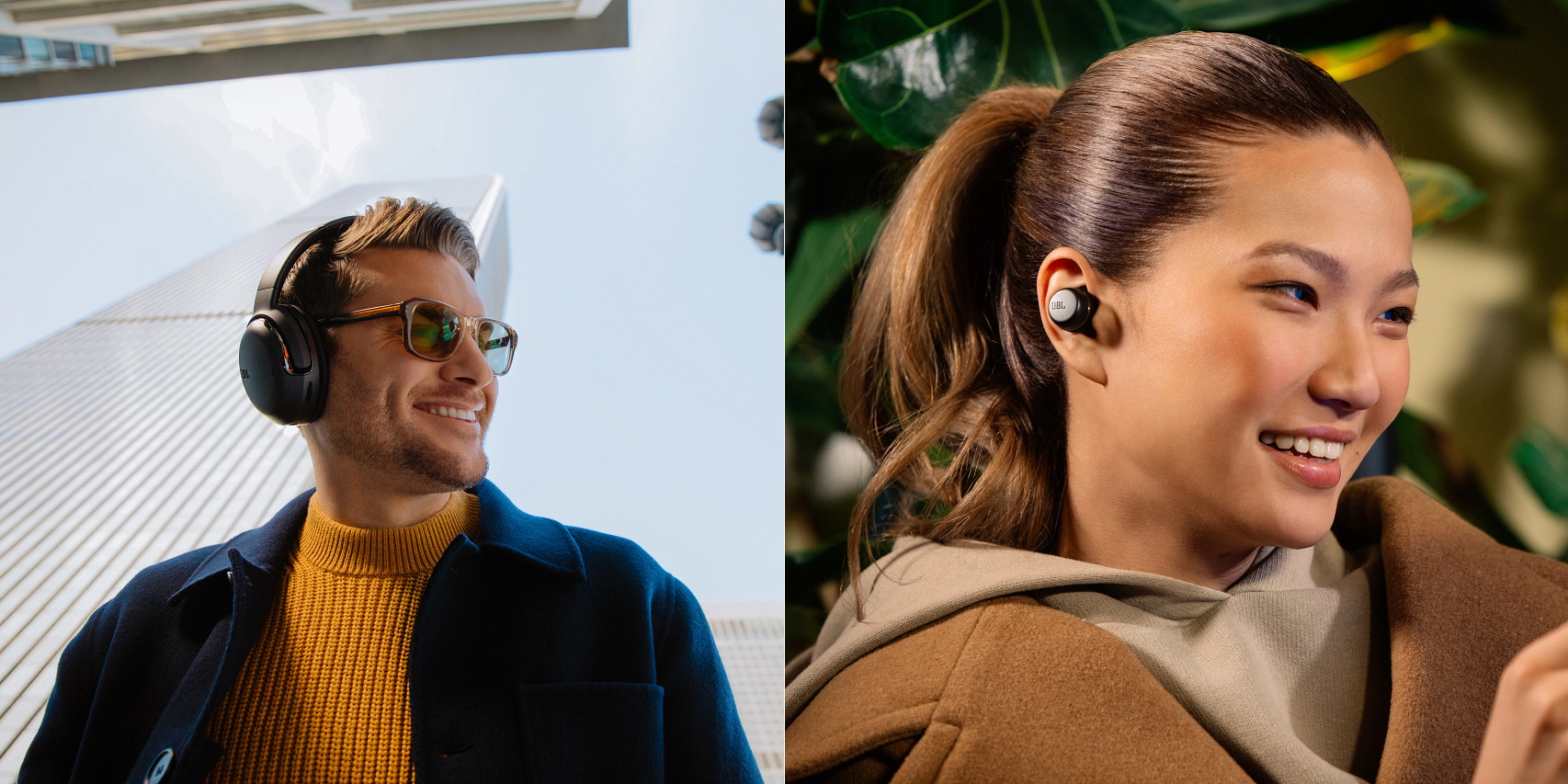 The all-new Tour series - noise-canceling headphones for the business user
Aimed at the frequent traveler, the Tour series offers adaptive noise reduction, which monitors the ambient noise level and automatically adjusts the noise reduction to the optimum. Smart SilentNow and My Alarm features, along with Ambient Aware and TalkThru capabilities, make these headphones, especially valuable travel companions.
Large Hi-Fi Headphones Tour ONE
are Hi-Res sound-enabled headphones that have several great features in addition to adaptive noise cancellation. The battery life with noise cancellation is up to 25 hours and without noise cancellation up to 50 hours, which is long enough to withstand a long journey without recharging. Due to fast charging, you get 2 more hours with just 10 minutes of charging. The universal USB-C port allows you to charge the headphones with a smartphone or a tablet charger as well.
The new Smart Audio feature improves sound quality in music mode and reduces latency in movie mode, and 4 microphones provide good sound quality for both phone calls and video chats. Obviously, Tour ONE's impressive quality and convenience features include a fast connection to Android smart devices, touch-free Google Assistant and Amazon Alexa support, and an app that allows you to conveniently set up your headphones.
However, the
Tour ONE's "little brother" Tour Pro +
is a pair of completely wireless in-ear headphones with IPX4 moisture resistance that incorporates a wide range of Tour ONE features despite their small size. The Tour Pro + is also equipped with adaptive active noise cancellation, SilentNow, My Alarm, Ambient Aware, and TalkThru. They also feature Smart Audio, directional microphones to improve call quality, fast connectivity to smart devices, and touch-free Google Assistant and Alexa support. Of course, the Tour Pro + settings can also be managed via the app. In addition, the app also helps you wear headphones correctly. The Tour Pro + battery lasts up to 6 hours with noise reduction and up to 8 hours without noise reduction. The charging case extends the time of wireless use up to 30 hours.
The JBL Tour series won the prestigious CES 2021 Innovation Award.
Updated Live headphones add comfort to the acclaimed series
The new members of the beloved JBL Live series of wireless headphones keep everything that has brought them a lot of fans and add many features similar to the Tour series.
Live PRO+ wireless in-ear headphones
on kohanduva aktiivse mürasummutusega ning kiirühenduse toega. Qi juhtmevaba laadimise toega ning USB-C pesaga laadimiskarp lisab 7-tunnise kestvusega akule kuni 21 tunni jagu lisatoidet ning kiirlaadimine aitab hoida klapid alati laetuna. Mugav puutetundlik juhtimine, IPX4 niiskuskindlus, puutevaba digitaalsete assistentide tugi ning mugav seadistamine äpi kaudu lisavad kasutamismugavust ja töökindlust.
However, the
Live 660NC
is a good choice for those who prefer large and powerful over-ear headphones. The Live 660NC also features adaptive active noise cancellation, up to 50 hours of battery life, and fast charging. Of course, this model also has touch-free digital assistant support and the ability to connect the headphones to two different devices at the same time.
The Live 460NC
The Live 460NC is an affordable pair of headphones with an on-ear design that offers adaptive active noise cancellation, up to 50 hours of battery life and fast charging, and the ability to connect multiple devices simultaneously.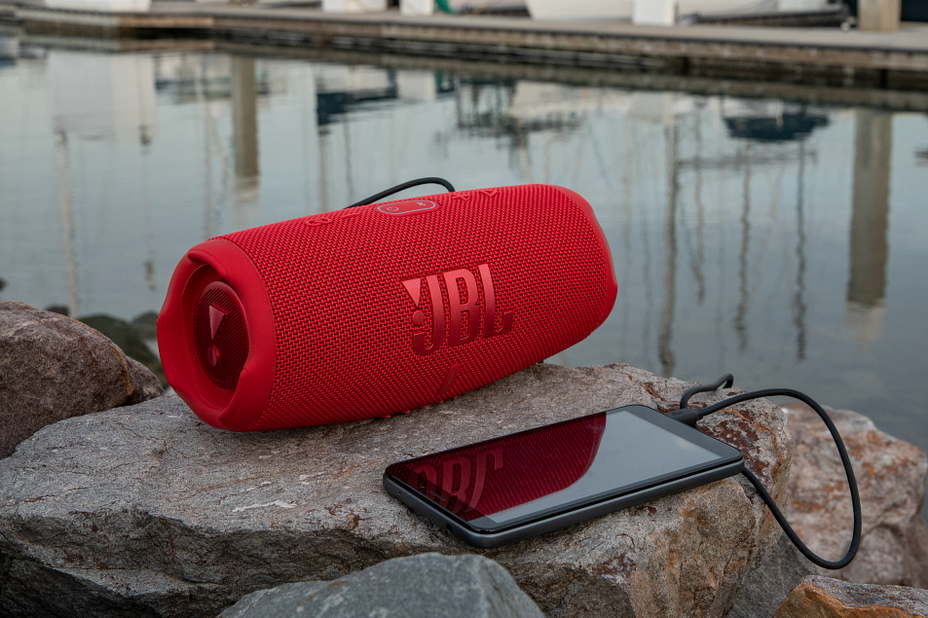 Charge 5 wireless speaker

The new model of the highly acclaimed Charge series retains everything that has made the Charge a favorite among millions - a high-capacity, long-lasting battery, with the option of using the speaker as a battery bank, IPX67 full water and dust resistance.
LIn addition, something new has been added - with JBL PartyBoost you can connect several speakers to each other for an even more powerful sound experience. Updated speakers and passive elements deliver even clearer sound, and Bluetooth 5.1 creates a more stable and far-reaching connection. Charge 5 comes in environmentally-friendly paper packaging.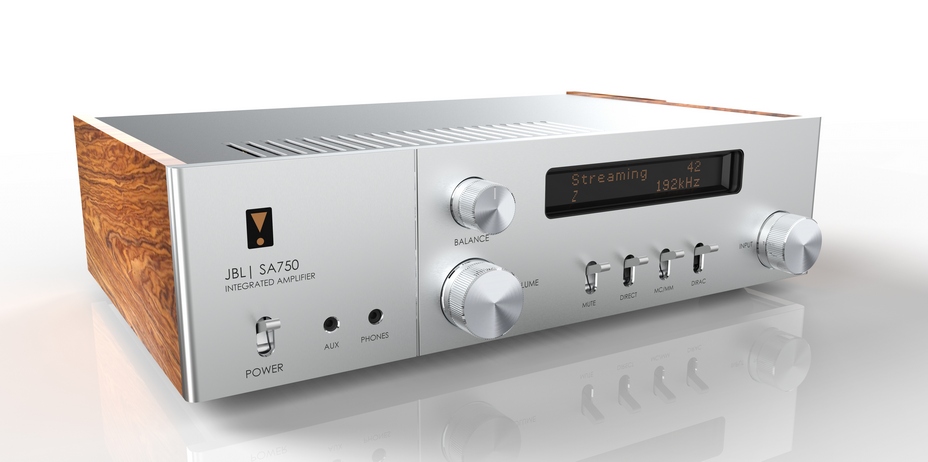 SA750 amplifier with retro design and modern features
A new model was created to celebrate the 75th birthday, inspired by the well-known classically designed amplifiers of the seventies. It is modern and forward-looking content hidden in its retro shell. The aluminum front panel of the stylish veneered amplifier has a clearly readable orange screen, volume, and input selection buttons, as well as a headphone output and a 3.5mm input. In addition to the classic universal vinyl player input and six line-in inputs, the amplifier also offers the latest wireless connectivity solutions - state-of-the-art high-resolution DAC audio can be transmitted via wireless UPnP, Google Chromecast, and Apple Airplay 2. Of course, the amplifier also has optical and coaxial digital inputs and a USB port. The amplifier also has support for the popular MQA sound standard and the ability to calibrate the Dirac Live room. With state-of-the-art Class G technology, the amplifier provides 120W of power at 8 ohms and 220W at 4 ohms in both channels.
JBL's new products will be available soon.